Ultimate online resource for postal information search launches to answer all your queries about addresses and matching postal codes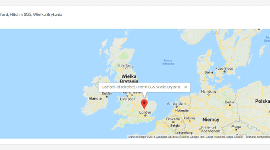 2018 saw the launch of an innovative platform that aims to limit the time we spend on finding correct postal information online. Postcode-checker.co.uk is a brand-new virtual repository of knowledge designed to facilitate Internet searches for correct postal codes. The website was designed to assist individual customers, business clients and analysts in their online research.
Postcode-checker.co.uk came to life from the need to organise postal information online. Several websites offer postcode matching services, however the data available through them is often outdated, contradictory or obsolete. The goal of this unique postcode finder is to end disinformation once and for all and provide Internet users worldwide with the ultimate virtual repository of knowledge about UK and international addresses, postal codes and locations. The information published on the site is pulled from official registries. It is also regularly updated and changes are adopted in a timely manner.
The idea behind the platform is to have one, trustworthy and reliable tool for finding correct postal information. On the main page of the platform you can find centrally located search bar where you should type in your search parameters – either postal code or address. After inputting the postal code, you will be presented with a list of assigned addresses. And after typing in the address you will get a matching postcode. If you are unsure of the exact spelling of the address, the algorithms that support the search tools will produce relevant suggestions for your convenience. On the home page users can also find a Google-powered map. It can also be used as location finder – just click on the map and exact address, together with a matching postal code will be presented on the site. The use of platform's tools is quite intuitive which makes the searches fast, easy and enjoyable. In addition to that, the site also contains handy index of UK towns and cities, so that the users can perform manual searches for addresses and postal codes. The use of the platform is free of charge and every user is automatically granted full unlimited access to the site. There is no need to provide any personal data or create an account to use Postcode-checker.co.uk to the fullest.
Postal codes are an essential part of our lives. In United Kingdom alone there are over 1.8 million active postal codes covering approximately 30 million addresses. And the numbers grow constantly. Every month approximately 2,750 postcodes are created and 2,500 are terminated. Postcode system as we know it today has been created in 1974. Primarily, postcodes have been used by the Royal Mail to organise and structure mail delivery system throughout the country. With time, though, they have become useful for calculating car or home insurance, creating census statistics and even creating and distributing marketing-related content. They have numerous applications in day-to-day life, so you never know when you will find yourself in need of looking up correct postcode, so bookmark Postcode-checker.co.uk on your phone or tablet to have this powerful resource always at your fingertips.