Locate New York businesses with NYBizDb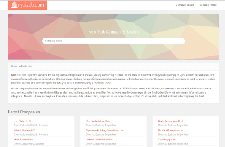 An average American spends approximately 23 hours per week browsing the Internet. Majority of this time is undeniably spent on social media platforms, but a significant percentage is devoted to finding specific information online. Could you imagine how much time you would save if you didn't have to dig through several databases just to find the current phone number to a particular business or service provider? Or how beneficial would it be to always have a fail-proof resource for locating companies in your neighborhood? You are in luck as NYBizDb has just the solution you might need.
NYBizDb is a versatile platform set up to facilitate the search for business contact data online. With the platform you are now able to find the company you are looking for in just a few easy steps.
This powerful virtual resource for locating companies in the State of New York operates on a simple principle – get the information you need quickly and effortlessly. On the main page of the site you will find an intuitive search bar where you can input any phrase associated with the company you seek. It can be anything from full name to keywords. After clicking the search button you will be presented with several results, so that you can choose the one you are looking for manually. If you notice that keyword search provided too many results, you can always narrow it down by typing in the address of the company or adding a post code. An undeniably useful feature for everyone collecting data on businesses in particular area is the fact that by entering just the post code, without choosing corporate extension from a drop-down list or filling in the company name tab, you will be presented with a list of businesses operating in a specified district. To make the search faster and more enjoyable, you can also sort the results by desired parameters. The site also features company index containing all database records. The index is alphabetically organized and divided into sections for your convenience.
NYBizDb collects data from official government documents and is proud to present only the most reliable information, ultimately creating informative company dedicated pages. The top section of the entry presents full company name, address, jurisdiction, date of establishment and years on the market. Next you will find the name of company's CEO, his or her address, city, zip code and state. Further information provided by NYBizDb includes official data concerning incorporation and operations, together with a short description of the line of business. If a company possesses any certificates or licences you will be notified about them in the following section. It may happen that some companies will also list their professional achievements and provide information about lucrative or particularly beneficial projects they have accomplished in the past. Hence, in the final section you will find all additional information that a company discloses to the public, such as value of contracts, detailed information about projects, contact details to project managers and their supervisors and basically anything that will make this business stand out from the pack.