Effortless search for UK dialling codes with UKareacode.co.uk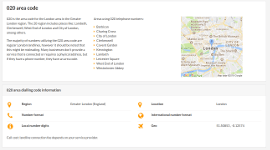 In 1876 a Scottish inventor, Alexander Graham Bell, made the first successful communication over the phone with his assistant in a next door room. Just a few years later, in 1881 in the UK the National Telephone Company was established to oversee localised telephone landline services across the country. Telecommunication industry grew rapidly after The World War I, which led to the development of infrastructure and popularisation of landline services. Back then, a price of a single telephone unit was pretty high, therefore phone centres have been created in major UK cities in order to streamline the calling process. The National Telephone Company maintained monopoly until the 1980s. Since then, the competition on the market started to grow, which resulted in multiple changes in the telecommunication industry. In 2003 The Office of Communication (Ofcom) was created to monitor compliance with telecommunication laws and act as a governing body for broadcasting, telecommunication and postal industries. Currently, millions of people around the world use regular telephones and smartphones on a daily basis. According to Ofcom, as of 2016 94% of UK adult residents owned and used mobile phones and 76% of them used smartphones. There are over 33 million active landlines and 92 million mobile subscriptions. Due to a growing number of residential and business real estate developments 2016 saw 1.3% increase in the number of newly-created landlines which have arbitrarily assigned area codes. Historically, an area code used to reflect the geography from where the call is originating or where it is going to. Currently, area codes are assigned basing on a set of complex rules established and maintained by UK's Office of Communication.
UKareacode.co.uk is a brand-new platform that collects and organises information about UK dialling codes online. It is a revolutionary resource that aims to facilitate Internet searches for area code information. UKareacode.co.uk is divided into four sections representing major regions of the UK – England, Northern Ireland, Scotland and Wales. Each section houses a hyperlinked index of area codes. Database records contain detailed information about local and international telephone number formats and call costs, as well as a list of cities and towns covered by a particular area code. The data published on UKareacode.co.uk was gathered from official registries and government websites for maximum accuracy. Changes in area codes happen very rarely, nevertheless the data on the website is regularly reviewed and updated, thus making UKareacode.co.uk one of the most reliable and trustworthy virtual resources for validating correctness of UK dialling codes. Every user can enjoy free unlimited access to all sites functionalities without setting up an account or providing any personal details. On the top of that, UKareacode.co.uk is compatible with all modern portable devices which means that you can look up dialling codes on the go, so do not hesitate and bookmark the page on your smartphone or tablet today, so that you can use the the platform whenever you need it and wherever you are. Additionally, the website features minimalist and modern web design and elegant colour scheme. All that combined creates an enjoyable end user experience and makes UKareacode.co.uk the only resource you will ever want to use in your searches for UK dialling codes.