Company search made easier with Canadabiz.net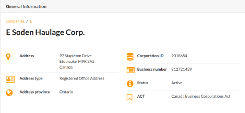 In the era of the Internet we often assume that everything can be found online. And if it can't – it simply does not exist. Nevertheless, there is a gap between the virtual realm and reality and it can have a very real effect on our lives. There are companies that have very significant Internet presence or the ones that target only specific clientele. And then there are those small, local businesses and excellent specialists that do not feel the need to advertise their services on the Internet.
Constant access to information can make our lives easier under one condition – the information needs to come from reliable source and be up-to-date. In today's data-driven world there is no place for disinformation. With that in mind, the team of skilled developers has designed a comprehensive database of knowledge about businesses registered and operating in Canada.
Most of the time, clients, business owners or investors use several different databases to verify the accuracy of company data. They have to go to different resources in order to compile a reliable and comprehensive profile of the business just because ordinary databases contain only limited sets of information. Luckily, a brand new launch called Canadabiz.net has an innovative take on this issue, as the platform puts the needs of Internet users first. It is a virtual repository of business contact details and profiles of Canadian companies. The project came to life from the need to have one, reliable and regularly updated source of information that guarantees top-notch quality. Canadabiz.net puts an end to futile and unproductive Internet searches once and for all.
Canadabiz is a crucial tool for those interested in collecting data about any business sector in Canada. It contains information pulled from official government websites to guarantee reliability. Each company featured in this directory has its own profile page where the users can find current physical and registered addresses of the business, company ID, its status and act under which it was incorporated. Then, there is a short description of the company followed by a Google-powered map. On the profile page the users can also find a list of current directors together with their addresses and a summary of company activities and annual returns. At the bottom of each dedicated company page there are links to profile pages of companies operating nearby. In order to use the platform in your work, all you need to know is the name of the company you are currently researching. Just go to the index of all companies and pick the one you are looking for from an alphabetically organised list.
Apart from being a reliable source of information, Canadabiz.net is also a web design masterpiece – the designers went the extra mile to make the site look modern and be readable and user friendly. All data is presented in a form of neat tables or brief descriptions. On the top of that, navy and orange details add elegance and signify professionalism.
Canadabiz is the future of online business directories. It already features hundreds of Canadian companies and the numbers are constantly growing. It is the ultimate resource you will ever need to conduct research on businesses in Canada. And it is completely free of charge. From now on, you can access this virtual repository wherever you are as it is available for smartphones, tablets and PCs.